Laser Shaft Alignment
Willis Mechanical provides precision laser shaft alignment to customers in the expanded Metro Atlanta area. Our highly trained technicians use cutting-edge tools that are calibrated to the highest degree of accuracy.
Read on to learn if this service could be right for you and how to maximize benefits for your facilities.
Lower energy usage
Increase bearing life
Increase equipment reliability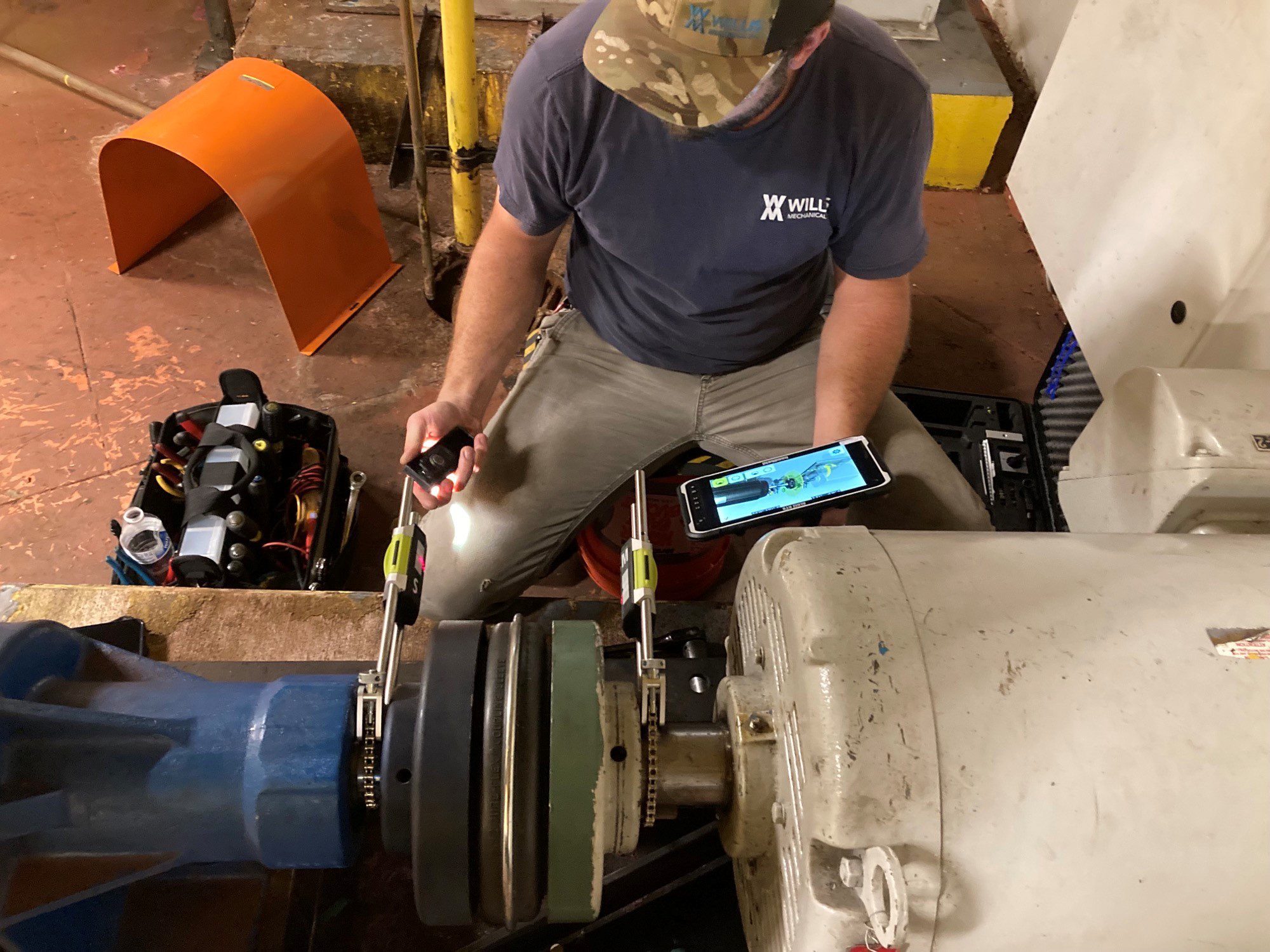 Laser Shaft Alignment.
Metro Atlanta
and Beyond.
Bearing lifespan increase
Reliability
Your facility is important. Whether your equipment supports an office, a factory, a hospital, or a sports arena, your pumps and shaft-driven equipment are crucial. Willis Mechanical can help you keep your facility from breaking down. Laser Alignment of your equipment has dramatic advantages that include energy, reliability, performance, and life span.
The whole package
How do we make sure that your equipment is in the best condition possible? By combining a preventive maintenance agreement with Vibration Analysis and Laser Alignment! With these programs combined, you can be assured of the condition of your equipment, minimize repairs, increase up-time, and extend service life.
Why Laser shaft alignment?
Energy Usage
Significant power savings can be made through accurate shaft alignment. Precise alignment eliminates reaction forces and reduces energy consumption by up to 10%. Concerned about energy usage in your facility? Precision alignment is crucial for all your water pumps, HVAC pumps, process machinery, fans, etc. Willis Mechanical can help
Repair Frequency
Precision alignment reduces the rate of repair for motor and driven machines by up to 30% when precision laser alignment becomes an integral part of maintenance. Further cost reduction is realized through lower parts expense and inventory levels.
Pump Seal Life
A study by HOCHST AG Gendorf indicates that mechanical seal repair on pumps declined by up to 65% when precision alignment is carried out on a regular basis.
When do I need an alignment?
Willis Mechanical uses cutting-edge tools to evaluate equipment while the motor is running. No need to shut down to inspect. Click here to learn more.